I don't watch America's Got Talent.  I'm not really interested in competition shows or most of what pop culture produces unless its The Big Bang Theory, South Park, Tosh.O, and American Dad.  Movies are really my thing.  However, my father watches most shows with vehement passion.  One evening when I was sitting out at the dining room table, I caught myself watching snippets of America's Got Talent.  I have witnessed many acts from a 10 year old singing Ave Maria, to Prince Poppy Cock, and a socially withdrawn Goth opera singer.  I have indulged myself with acrobatic and magic acts that are broadcasted.  I have to say that I am impressed and disgusted with most of the talent.  One evening, I saw an "act" that just happened to blow me away.
It was a group called the Aurora Light Painters which introduced a new form of art to me called light painting.  Light painting is a new concept which uses a photographic technique which makes exposures by using a hand-held light source with a camera.  Pablo Picasso would stand in front of a camera with a flashlight and trace the air before the camera's shutter went off.  What he birthed was a series of images which revealed vibrant and precise lines of illumination that would create an otherworldly and beautiful affect.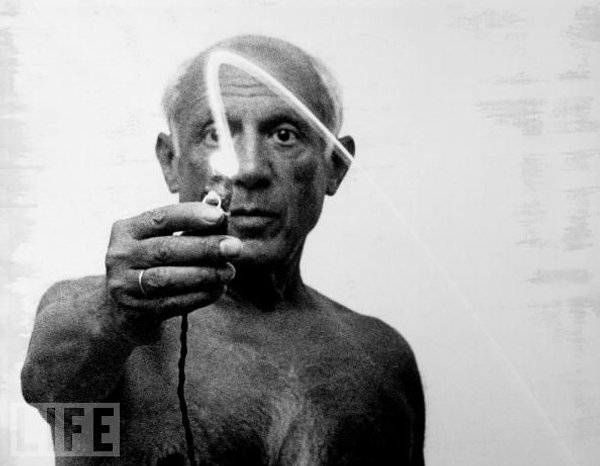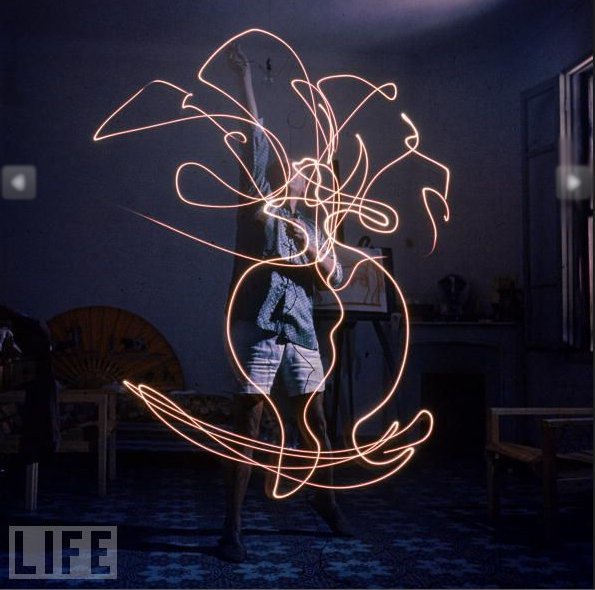 Light painting usually requires an expert hand coupled with an imagination that is fit to create something out of the very tools we utilize for mundane activities.  An artist who is willing to make mistakes from years of practice and suffering from perfectionist tendencies would find this hobby ideal for them.
Light painting originated in 1882 with two men named Étienne-Jules Marey and Georges Demeny.  They established a programme of research that subsequently lead to "Station Physiologique".  They experiment with several photographic techniques to study the movements of living things and they created the first known light painting technique called "Pathological walk from in front" that was the result of Demeny attaching incandescent bulbs to the joints of their assistant.
From there, many artists would follow in their attempts to continue Demeny and Marey's legacy.  In 1914, Frank Gilbreth and this wife would utilize small lights to track the motions of their workers.  Ironically, they weren't attempting to create art at all but were attempting to find more ways to keep their employees happy.
In 1935, a photographer named Man Ray contributed to a series called "Space Writing" in which he set up a camera to create a self-portrait and used a small pen light to create a series of random circles within which is what the art was considered to be until a photographer named Ellen Carey held a mirror up Ray's work and found his image.
Light painting history is rich with these pioneers who took a few simple tools and seemingly created something out of nothing through either experimentation, curiousity, or just plain creative madness.  Thanks to the Aurora Light Painters, I would have never known about an artistic technique that is still quite obscure and which has the ability to create a revolution through a new form of storytelling.