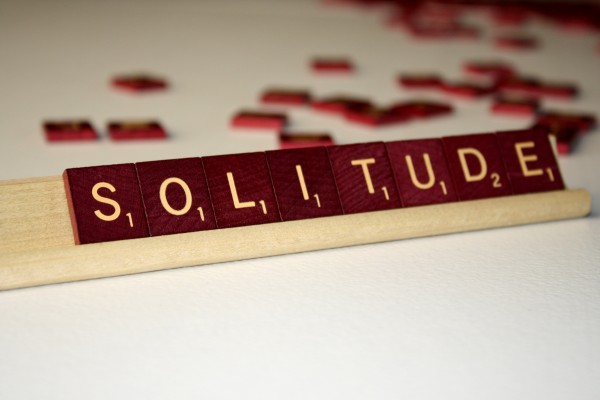 Sometimes I wish for falling
Wish for the release
Wish for falling through the air
To give me some relief
Because falling's not the problem
When I'm falling I'm in peace
It's only when I hit the ground
It causes all the grief
- Fallingby Florence + The Machine

Solitude has always been my raison d'etre and my source of inspiration. It is when I am alone that the best ideas occur to me. I relish diving into my little pleasures like a proverbial cat with a new mouse toy. I glide, soar, and broach depths and heights which I never thought were possible.
However, solitude can sometimes transform into my worst enemy. Solitude's hideous doppelganger loneliness can ravage and tear me to pieces if I don't keep it in check.
My solitude began in childhood as I went down the rabbit hole of books. Books would transport me from the human realm into realities that dreams and nightmares would produce in rapid heartbeats and bated breath.
The list of the literature I consumed was King Arthur and his Knights, Grimm's Fairy Tales, Hans Christian Anderson, Scheherazade and 1001 Nights, and even the picture Bible. 
As a child, I was conditioned to believe that someday a Prince will come, rescue me, and take me to his castle where we would we would live happily ever after.
Disney also fueled this idyllic sentiment, taking the stories written by both Grimm and Anderson and adapting them into film. There was the damsel in distress, the heroic Prince, and the villain/villainess who usually ends up being vanquished by the Prince who ends up acquiring a princess as his rightful prize. Not only do these stories and films reinforce traditional and stereotypical gender roles, but they also plant the destructive seed that somehow children will grow up, be rescued, and have happy endings.
When we nurture and feed these childhood fantasies, giving them priority over everything else, we will end up lonely and confused. The fallacy of fantasy is a processed sugar that causes addiction and depression. It gives us numerous cavities that make our teeth rot out of our heads.
The pretense of elusive "happy endings", the craving for constant pleasure hurts us more than we can ever imagine. What Disney and storybooks don't realize is that the human condition is more complex than the fantastical elements that they spoon feed us. People form romantic relationships, people break up and people develop friendships, and friendships end. These brief companionships, however sweet they may be, will end somehow. In The Grief Recovery Handbook, 20th Anniversary Expanded Edition: The Action Program for Moving Beyond Death, Divorce, and Other Losses including Health, Career, and Faith, one quote stands out to me amongst others: "Even the most loving and complete of relationships will end with some incompleteness."
I have experienced loss most recently. A person with whom I had been friends with for years reached out to me in my pain. When we got together on the 4th to watch fireworks, I immediately addressed a situation which caused us to have an initial falling out. The manner in which she approached it was completely one-sided: it was her view, her way, and everything else was my fault. I am a passive person but with the recent skills I learned in assertiveness, I declared that I wasn't a mind reader and didn't expect to read every feeling that she had. The evening ended on a tense and sour note. We were both annoyed that we weren't in one another's shoes and that only established a palpable loneliness between us that couldn't be filled. I still wonder even how to fix the situation. What could I have done better that she could have heard my side?
The answer is – I can't. Pema Chodron stated it best in her book, When Things Fall Apart: Heart Advice For Difficult Times:
Usually we regard loneliness as an enemy. Heartache is not something we choose to invite in. It's restless and pregnant and hot with the desire to escape and find something or someone to keep us company. When we can rest in the middle, we begin to have a nonthreatening relationship with loneliness, a relaxing and cooling loneliness that completely turns our usual fearful patterns upside down.
She encourages meditation, saying "not to even grasp whatever arises in our mind" and that what we usually assume as good or bad thinking are just thoughts. We should permit thoughts to come and go.
It is certainly something easier said than done and it is a process. I don't have all the answers but I do know one thing that has worked for me – passionate distraction.
A big no-no in Buddhism is distraction: one must focus and concentrate on the ability to the point where they are comfortable with being still. It is easy for a Buddhist monk or nun to be still and relish "just being." Well in this world, when the hours sometimes don't permit us to meditate I usually turn my focus to things I love. Meditation doesn't have to be the answer to everything and it certainly doesn't have to be the moment where we remain "still."
But, what if that distraction is necessary? What if the stillness isn't birthed through our efforts to find the middle way which so many people seek to find?
My version of the middle way, my approach to resolving the chronic loneliness is focus – focus on what you love. Dive into the passion which makes you whole. I am certainly not advocating co-dependency upon people to quell loneliness but rather something that will ignite a tangible flame which can be a cornerstone for maturity.
But there are times when I have lost that enjoyment and the burgeoning disconnection of loneliness overwhelms me. Loneliness has crippled me to the point where I have wanted to end my life because of my craving for company. With some help, I have learned that there is a beauty in my solitude, an awakening of my mind and the expansion of my pleasures.
I am not always going to get it right and sometimes I will lose my way. But, if there is one key thing that provides me with the willpower to continue is this – I am a river and I am the only person who places dams in my fluidity. I remember that I am loved, cared for, and that I am never lonely because there are other people who suffer like me. I am responsible for myself and if I want to get out of stagnancy, I must climb my way out. It is up to me to live and survive.
l am attempting to make friends with my loneliness and transform it into solitude.  My focus and instinct to survive never falters as long as I remind myself that no one is going to rescue me.  That part is up to me.  I am not going to wait for the Disney pass to explore the geography of a landscape that remains fantasy.  When I cling to that idyllic notion, that is when I am lonely and expect things to be permanent.  No Prince Charming is going to come my way to fix my problems and the fragmented pieces of my life.  It is up to me to save myself.  Merrit Malloy said it best: We must be careful not to relinquish our future to people who won't be there.  When we relinquish our future to false hopes, that is when we become lonely and we forget the benefits of solitude.  I will be applying to the institution of self-reliance as my middle way from now on.